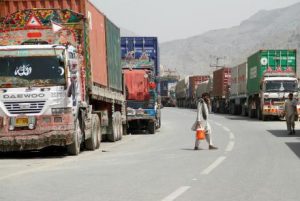 Pakistan's Minister for Commerce Khurram Dastgir said Tuesday that the Torkham gate crossings between Afghanistan and Pakistan will re-open soon.
Although Dastgir did not specify a date that the crossings would re-open, Pakistan media quoted a local government official, senator Taj Muhammad Afridi, as having said Torkham will be reopened for trade from next week.
Islamabad closed the crossings last month due to security concerns following a deadly blast at a shrine in Sindh province, which left at least 75 people dead. Quoted from (Tolo news).
This decision was then followed by a number of missile attacks into eastern Afghanistan by Pakistan.
This week however, Dastgir expressed hope that recent talks in London between Hanif Atmar, the National Security Adviser for President Ashraf Ghani, and the Pakistani Prime Minister's Adviser on Foreign Affairs, Sartaj Aziz, would prove to be helpful in resolving the outstanding issues between the two countries.
Dastgir also stated that Pakistan wants a balance between trade regulations with Afghanistan and that Islamabad had offered a Preferential Trade Agreement to Afghanistan two years ago but that the draft was lying with the Afghan National Security Council.
Earlier this week the Afghan Chamber of Commerce and Industries (ACCI) stated that the smuggling of Pakistani goods into Afghanistan has tripled since the border closure between the two countries.
According to the ACCI, Pakistani goods are coming into Afghanistan without custom duties having been paid and are sold at four times the price than normal.
The Afghanistan and Pakistan Joint Chamber of Commerce and Industry (APJCCI), meanwhile said there are an estimated 20 smuggling routes through eight bordering provinces. These routes are being used to smuggle goods from Pakistan into Afghanistan.