To answer the question, one should not ignore the US economic interests which are provided by the sale of military equipment.
---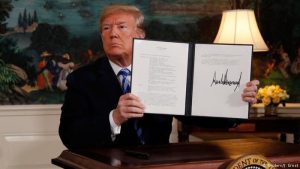 The US president Donald Trump last week pulled his country out of the 2015 nuclear agreement, allowing the sanctions within the framework to be implemented against Tehran.
Trump also added that America plans to impose heavy business punishments in addition to previous sanctions against Iran.
Donald Trump described Iran as a supporter of international terrorism and a destabilizer in the Middle East region, adding that the Iran deal could not defend America against Iran's nuclear arsenal madness.
In the end, Trump considered two things for the withdrawal; first, Iran is a destabilizer in the Middle East. Second, the agreement could not halt Iran reaching the nuclear deal.
But does Trump really tell the truth?
The European foreign policy chief Federica Mogherini has repeatedly said that Iran has complied with its obligations and has not violated it.
The supporters of Trump's decision were only Israel and Saudi Arabia while the EU leaders and signers as well as the signers of the deal expressed regret over Trump measure and emphasized their commitment to JCPOA.
Now, the question is, why Trump left the Iran deal?
To answer the question, one should not ignore the US economic interests which are provided by the sale of military equipment. Selling military equipment has long been the major income source for America. According to the announcements related to military contracts published by US Congress, the US President Donald Trump, who came to power since 20 January 2016, sold about $ 49 billion worth of weapons to other countries.
This comes as the figure had been $ 33 billion in 2016. On the other hand, if we consider the research published by the Institute for International Peace Studies in Stockholm (SIPRI), the reason why Mr. Trump pulls out of the deal will be further clarified. The SIPRI said in a report that arms exports to Middle East countries have increased by 103 percent between 2013 to 2017. The body described the arms sale to the Middle East as a "military crisis" in the region. With the entry of Iran into a nuclear deal, the Middle East countries, especially the Arab countries, breathed comfortably and became happy that Iran would no longer build nuclear weapons. But the issue did not end here and the comfortable breath of Arab countries turned to a nightmare for America; because these countries were no longer willing to buy more weapons from the United States. With the arrival of Donald Trump, the country once again sought to eliminate Iran's diplomatic relations with other countries. The Iran deal brought about the conditions for the diplomatic relations.
On the other hand, the JCPOA has led to a reduction of Iran phobia worldwide and in the region. In the long run, this could have seriously damaged the US weapons market in the region. Because the Middle East without crises will have no interest in US military equipment. The United States has actively wanted to spark a crisis in the Middle East by abandoning the Iran deal. For this, Israel attacked Iranian bases in Syria and Saudi Arabia has repeatedly vowed it will also build nuclear weapons based on the condition.
Finally, Trump left the Iran deal to sell US weapons in the region by sparking conflict in the Middle East, and the market will be prepared when the Middle East would be in war. Because countries prioritize military equipment than any other thing once being in war.
Mahdi Sarbaz – (DID) news agency
Translated by Zaher Mahjob