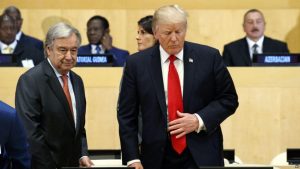 The U.S president Donald Trump criticized the bureaucracy and the weak management in this international institution during his first visit to the United Nations.
In a special annual summit of the United Nations, the American president is calling for reforms in this organization, saying: "in recent years, the United Nations has not reached its full potential due to bureaucracy and mismanagement. While the organization's budget has increased by 140 percent and its staff has doubled since 2000.
Criticizing the UN's "weak" response to the global crisis was one of the main focus of Mr. Trump, during his election campaigns last year. After taking office, he announced that he will decrease U.S aids to the United Nations.
The United States is the largest contributor to the UN budget, reflecting its position as the world's largest economy. It pays 25 per cent of the UN's regular operating budget and over 28 per cent of the separate peacekeeping budget.
In past years, many countries had criticized the UN's failure to fulfill its duty, maintaining peace and international security.