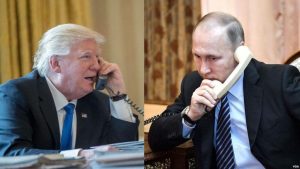 As agreed in advance, Vladimir Putin had a telephone conversation with President of the United States of America Donald Trump.
Both sides talked about Middle East, North Korea, Ukraine and Afghanistan.
Vladimir Putin and Donald Trump also exchanged views on the current state of affairs on the Korean Peninsula, emphasizing that it would be advisable to find a negotiated solution to the problem by diplomatic means.
Regarding the crisis in southeast Ukraine, the President of Russia pointed to the lack of a real alternative to unconditional compliance with the Minsk agreements of February 12, 2015.
The two leaders touched on the situation in Afghanistan, which is of concern due to the growing terrorist and drug trafficking threats. They also discussed the situation surrounding the Iranian nuclear program.
According to the Kremlin statement, Vladimir Putin called on Assad to agree on a draft peace plan of Moscow initiative, Tehran and Ankara to end the war.
In addition, emphasis was placed on the upcoming trilateral talks in Sochi on November 22 with the participation of the presidents of Russia, Iran and Turkey, during which steps to further normalize the situation in Syria and various aspects of the political settlement process are to be coordinated.
Russia and Iran have supported Damascus during the Syrian War, which has been in its seventh year, and the United States and its allies, including Turkey, have backed the oppositions of Assad government.
This comes as Russia and Turkey had earlier accused America of supporting Daesh terror fighters as well as transferring them to secure places from released areas of Syria and Iraq.