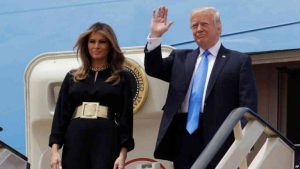 US President Donald Trump has started his longest trip to Asia. Trump will try to push Asian countries to put pressure on North Korea, stopping its nuke programs.
Donald Trump on an 11-day trip to Asia during which he will visit Japan, South Korea, China, Vietnam and the Philippines.
According to al-Arabiya, the journey is taking place while Trump is currently facing difficulties in America. These include federal police investigations on Russia's involvement in last year's elections, the attack on New York City and consultation for a Congressional Tax Reduction Plan.
President Trump flew first to the US state of Hawaii where he visited the USS Arizona Memorial at Pearl Harbor – the scene of the 1941 Japanese attack that drew the US into World War Two, then he will head to Japan and south Korea to strengthen fronts against North Korea and in China, he will visit the Chinese president "Xi Jin Ping" to ask that country to put pressure on Pyongyang.
Mr Trump will attend the Asia-Pacific Economic Co-operation summit in Danang, Vietnam, then, he will participate a summit of South-East Asian nations in the Philippine capital, Manila.
Trump's long absence from Washington while tax reduction plan has been posed at the US congress can make its fate the same as health insurance plan which it did not have a tangible result.