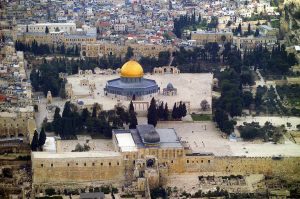 US President Donald Trump vowed at the White-House Wednesday afternoon that Washington recognizes "Jerusalem" as Israel's capital and will transfer US embassy from "Tel Aviv" to Jerusalem.
Mr. Trump said that the United States still wanted a negotiated peace agreement, and "would support a two-state solution if agreed to by both sides"
Donald Trump's recognition of Jerusalem as the capital of Israel has drawn an angry and despairing response from global and regional leaders – who warned it would destroy the peace process, strengthen extremists and weaken the standing of the US in the world.
In an address to reporters moments after the US president had finished speaking, the UN secretary general António Guterres said he opposed "any unilateral measures that would jeopardise the prospect of peace for Israelis and Palestinians".
"In this moment of great anxiety, I want to make it clear – there is no alternative to the two-state solution," Guterres said. "There is no plan B."
According to a statement by ARG palace, the Islamic Republic of Afghanistan expresses deep concerns to Muslims of that country and the Islamic world, about the recognition of Jerusalem as Israel's capital and transferring US embassy to that city.
"The decision hurt the feelings of the Muslims across the world and will jeopardize the peace process in the Middle East. Any unilateral decision in this regard without the participation of Palestine government will not have a positive outcome and a permanent solution," the statement added.
Earlier on Wednesday Pope Francis had issued a heartfelt plea to Trump to respect the status quo of the city, and to conform to UN resolutions. The pope told thousands of people at his general audience: "I cannot keep quiet about my deep worry about the situation that has been created in the last few days."
Meanwhile, at the request of Jordan and the Palestinians, an emergency meeting of Arab foreign ministers will be held on Saturday. The Arab League warned that any such recognition of Jerusalem would be a blatant attack on the Arab nation. The Organization for Islamic Co-operation will meet in Istanbul on 13 December in a special session to co-ordinate a response.
Iran's supreme leader, Ayatollah Ali Khamenei, said any move to recognise Jerusalem as Israel's capital was made "out of despair and debility" because "their hands are tied and they can't achieve their goals".
Khamenei, who is stridently anti-Israel, told government officials: "Victory belongs to Islamic Ummah. Palestine will be free, the Palestinian nation will achieve victory."
According to The Guardian, a Kremlin spokesman said the Russian president, Vladimir Putin, had expressed his concern about the announcement.
Lebanon's Prime Minister Saad Hariri and Ministry of Foreign Affairs also denounced Trump's move on Jerusalem.
Hariri said on his Twitter account that Lebanon deplores and rejects the decision, and it is in solidarity with the Palestinian people.
According to KUNA, the official agency of Kuwait, Ministry of Foreign Affairs warned the U.S. president about the decision's dangerous reflections and urged him to reverse the move.
Among Israelis, however, Mr. Trump's announcement drew praise from Prime Minister Benjamin Netanyahu, "The Jewish people and the Jewish state will be forever grateful," Mr. Netanyahu saidSpeaking from Ramallah, Hanan Ashrawi, a member of the PLO executive committee, described the decision as "disastrous, disheartening and absolutely irresponsible", adding: "It is not well thought out. It is in contradiction of the basic tenets of peace. It shows bias and is an accommodation for occupation, force and military violence.
"President Trump talks about reality, [but] what is reality? The only reality is that law should be the basis for any recognition. He is trying to scuttle the chances of peace. In his mad rush to show he is different from other presidents he did not stop to think why other peace settlements failed."
Earlier Wednesday, Trump announced his decision despite widespread international opposition to formally recognize Jerusalem as Israel's capital.