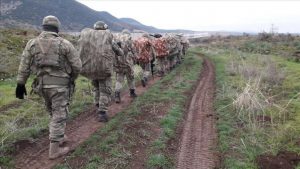 Turkish ground forces have started to move into Syria's Afrin Sunday.
Turkish Armed Forces backed by armored vehicles, special forces and infantry regiments advanced 5 kilometers (3 miles) inside Afrin as part of Operation Olive Branch.
During the movement, no major clashes took place, Anatoly News agency reported.
Turkish warplanes and artillery have hit 153 PYD/PKK and Daesh targets in Syria's Afrin, so far, the Turkish General Staff said earlier on Sunday.
Meanwhile, Turkish Foreign Ministry is keeping ambassadors from several countries in the region informed about Turkey's ongoing Operation Olive Branch in Syria's Afrin, according to a Turkish diplomatic source on Sunday.
Ambassadors of Lebanon, Jordan, Iraq, Qatar, Kuwait and Saudi Arabia have been invited to the ministry where Turkish ambassador Sedat Onal will brief them about the operation, the source, who asked not to be named due to restrictions on talking to media, said.
On Saturday, envoys and mission chiefs of permanent members of United Nations' Security Council — United States, Russia, United Kingdom, France, China as well as Iran — were also invited to the ministry for a similar briefing.