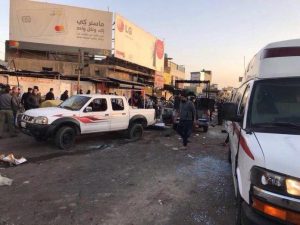 More than 90 people were killed and wounded following back-to-back blasts in Baghdad on Monday.
According to local reports, the twin suicide bombings took place inside central Baghdad's Tayaran Square.
At least 24 people killed and 70 wounded this morning following twin bomb blasts in central Baghdad, Rudaw English reported.
Although the pace of attacks has declined since the ISIL group defeated in December, this is the second attack in three days.
The Iraqi interior ministry said the death toll was likely to rise as more bodies were being recovered.
No group has claimed responsibility for these attacks.