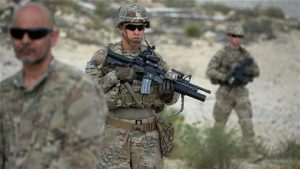 The real number of American military forces based in Afghanistan is more than 12 thousand, while the official figure offered by the U.S.A is 8,400 people, WSJ disclosed.
The newspaper, quoted from a high-level official of American defense ministry that the number of American troops based in Afghanistan is more than 12 thousand.
Since the US troops have been deployed in Afghanistan until now, the exact numbers of American troops in Afghanistan have been kept secret by US officials, and now the statistics of the country's special army groups have not been disclosed.
On the other hand, it is not clear that these 12,000 people include U.S military contributors working with Afghan forces or not.
Meanwhile, Donald Trump reported in that country's new strategy of sending 3,900 additional troops to Afghanistan that in this way, their level will reach to 16 thousand people.
It should be noted that earlier, defense secretary James Mattis has called on the U.S army chief of staff Gen. Joseph Donfour to inform the department of the exact number of U.S troops based in Afghanistan, so the decision should be made based on the report.