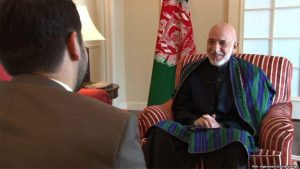 Hamid Karzai, country's former president says that all countries which are involved in Afghanistan's internal conflicts, from America to Britain, Germany and Norway have been in contact with Taliban.
According to (DID) news agency report, "because Taliban has influence over half of Afghanistan's territory, therefore, foreign powers are helpless to understand the fact that have contact with the Taliban," Mr. Karzai added.
Country's former president besides backing Russia's close contact with Taliban and added that Taliban is a reality in Afghanistan and Russia has the right to have relations with this group.
Mr. Karzai's remarks come as some U.S officials have accused Russia of supporting Taliban during recent weeks; an issue that Russia rejects it and considers it baseless.