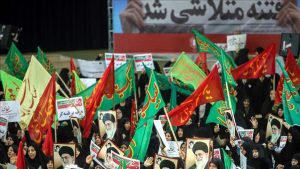 Iran's Foreign Ministry on Saturday condemned U.S. "interference" in the country's internal affairs as thousands of people staged pro-government rallies across the country.
Iranian Foreign Ministry spokesman Bahram Qasimi accused the U.S. President Donald Trump and the U.S. State Department spokesperson Heather Nauert of interfering with Iranian internal affairs by their statements about the rallies ongoing in Iran.
Trump tweeted on Saturday that the "Iranian government should respect their people's rights, including the right to express themselves. The world is watching!"
In a statement on Friday, Nauert said: "Iran's leaders have turned a wealthy country with a rich history and culture into an economically depleted rogue state whose chief exports are violence, bloodshed, and chaos."
Stating that the people of Iran are the greatest supporters of the country's security and future, Qasimi said his country had a "strong democratic structure and constitution" in order to fulfill the demands of the people.
Footage on local media showed that thousands of people attended at rallies in Tehran, Mashhad and elsewhere to mark the anniversary of the end of "the sedition" — the last major unrest that followed disputed elections in 2009.