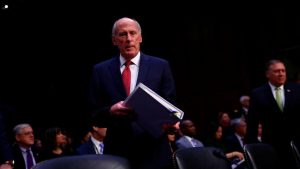 Dan Coats, America's national security director is not very optimistic about the changes in Afghanistan's situation.
At the same time, the White-house vowed that it will increase the number of its troops in Afghanistan.
Dan Coats, who had attended the Senate committee, a question and answer session about global threats, stressed referring to the security situation in Afghanistan that political and security status will not get better in Afghanistan by 2018, even if the number of U.S military forces and other NATO countries increase in Afghanistan, Quoted from (Radio France).
The official of America's national intelligence added that Taliban have added to their activities and said; Taliban took the control of other areas in Afghanistan.
"Afghan security forces are in an unsuitable condition and that's why Taliban could beat these forces in some recent operations," Dan Coats underlined.
U.S and NATO officials say that they will increase the number of military forces in Afghanistan, in order to strengthen the military forces of Afghanistan's army.