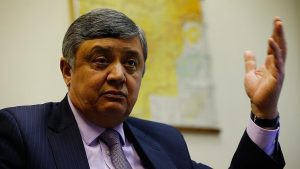 Russia's special representative for Afghanistan's affair Zamir Kabulov says that Donald Trump's new strategy for this country is the continuation of Barak Obama's mistake.
"Donald Trump's new strategy in Afghanistan is the repetition of Barak Obama's mistakes," Zamir Kabulove, the Russia's presidential envoy to Afghanistan in an interview with Anadolu news agency said.
"The scheme to put military pressure on Taliban to bring them to the negotiation table is a sign of Washington's failure in its strategy in that country," the Russian envoy further said.
"Obama did not accomplish anything, deploying 30 thousand extra troops to Afghanistan and now, what does America want to achieve by sending 3,900 soldiers," Kabulov added.
"Donald Trump's new strategy, the unlimited presence of U.S troops in Afghanistan will intensify clashes and civilian casualties in the country," the senior Russian diplomat said.
"To prove this, we do not have to wait for the result. Immediately, after the announcement of New Trump's strategy, 13 civilians in Herat province, 13 others in Logar province and 2 others in Kabul lost their lives during U.S attacks on Taliban positions," the Russian representative continued.
According to him, the current situation in Afghanistan can only be solved by the peace process. Regional and international powers should back this process.
"Russia wants a fair resolution of Afghanistan issue that all regional countries will benefit it," Kabulov stressed.
He added at the end that our door is open to America to join this mechanism. From the perspective of Moscow, this format can be used to create a platform for dialogue between Kabul and the Taliban.