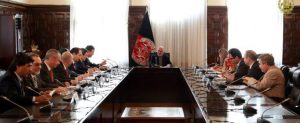 Afghan president M. Ashraf Ghani in a meeting with the head of UN Security Council sanctions committee in ARG palace urged the UN to persuade Taliban to negotiation, as well as stressing UN can play a key role.
According to DID news agency report, president Ghani said at the meeting that Pakistan should use the opportunity ahead.
"Islamabad can bring the Taliban to the negotiation table," Mr. Ghani added.
On the other hand, Najib Danish, deputy spokesman for presidential press office has said Afghan peace negotiations should focus on two dimensions; first peace with Pakistan and second peace with Taliban group.
After the announcement of new US strategy on Afghanistan and the region, the national unity government has stressed on practical steps by the Pakistani government in the fight against terrorism.
Dr. Abdullah, chief executive of the national unity government has recently called on the UN to boycott the leaders of Taliban.