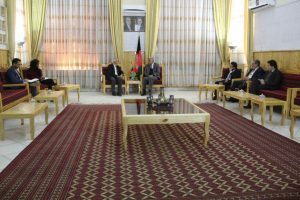 Simon Hermes was introduced as the new head of UNAMA bureau in western Afghan Herat province, previously working as the head of the UNAMA entity in Kandahar province.
During a meeting with M. Asif Rahimi, the governor of Herat province, Simon Hermes hoped he could develop the activities of international institutions.
Meanwhile, Herat governor said, the role of national and international organizations valuable to develop services as it is one of the priorities of the province to provide facilities for the activities of international organizations.
The UNAMA Regional Office is responsible for coordinating the humanitarian assistance of international organizations.