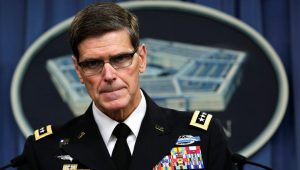 General Joseph Vettel, commander of America's forces in the Middle East, mentioned Islamic Republic of Iran as the greatest long-term threat against the stability of Middle East.
General Vettel, who was delivering this speech in front of America's congress, also urged for the use of military means against Iran in Yemen and the Persian Gulf.
Commander of US forces in the Middle East stressed that the destructive actions of the Islamic Republic of Iran and its allies at the heart of regional problems are such as; the threat of Islamic state in Iraq and Syria, Afghanistan, Yemen and Sinai desert and due to that, Iran is counted as the long-term threat against the stability of this part of world.
Joseph Vettel added that, by any means, including military should prevent Iran from achieving its destructive goals in the region.
He also said that, Yemen Houthis have deployed radar and defense missiles in the Persian Gulf by Iran's help and prevent from freely travelling ships in the Red Sea and the Strait of "Bab el-Mandeb".
Meanwhile, Ahmad Dehqan, Iran's defense minister asked America to withdraw its troops from the region, in response to the statements of General Vettel.
Iranian foreign minister also said that America should not expect that Iran would spread red carpet for them in the region.