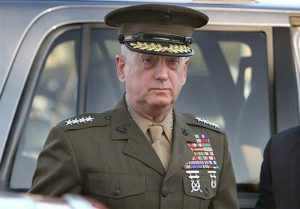 US defense secretary James Mattis is due to arrive (Monday) in Delhi New, India.
According to DID news agency report, the American defense secretary will discuss important regional issues with the Indian Officials.
It is said that James Mattis will also discuss Afghanistan issue with top Indian officials.
The US defense secretary is traveling to India while Donald Trump had previously called on India to strengthen its presence in Afghanistan.
The American president also criticized Pakistan's approach on Afghanistan and warned that country to end sheltering terrorists in the country; a stance that provoked Islamabad's criticism and the Pakistani Prime Minister read new US strategy in Afghanistan as "wrong" and "failed".
Meanwhile, the Indian envoy to the UN said that Pakistan is training terrorism.