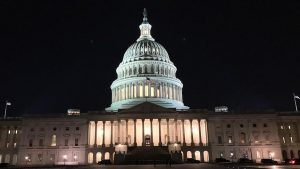 The federal government began a partial shutdown early Saturday after Congress failed to reach an agreement on a short-term spending bill.
A measure to fund the government until the middle of February passed in the House of Representatives on Thursday with little Democratic support but the Republican-led Senate was unable to sway enough Democrats to vote for the bill that would have kept agencies open.
Literal last-minute attempts to extend the deadline for a few more day to try to reach a bigger deal also failed.
A White House spokeswoman wasted no time after the deadline passed by placing blame on the Democrats for the stalemate. Quoted from Anadolu news agency.
The US vice president Mike Pence said, the democratic leadership preferred the shutdown and should be responsible for its dangerous consequences.
"Senate Democrats own the Schumer Shutdown. Tonight, they put politics above our national security, military families, vulnerable children, and our country's ability to serve all Americans," Sarah Hukabee Sanders said in a statement. "We will not negotiate the status of unlawful immigrants while Democrats hold our lawful citizens hostage over their reckless demands."
Democratic Senate leader Chuck Schumer also played the blame game, placing it squarely on the president.
Meanwhile, Pakistani government on Friday shut down a U.S.-funded radio station for allegedly airing anti-Pakistan propaganda, the Interior Ministry said.
Radio Mashaal, a sister organization of Radio Free Europe, operated from Czech Republic's capital Prague, was shut down by the premier spy agency, Inter-Services Intelligence (ISI) for airing content against the "interests of Pakistan and in line with the hostile agency's agenda", according to a notification.
The statement did not specify what the "hostile agency" referred to.
It added that the radio channel, which was mainly operating in the northwestern tribal region along Afghanistan, was portraying that the local Pashtun population was disappointed with the state.