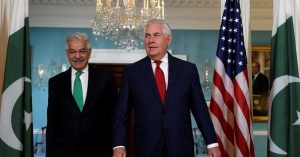 US secretary of state Rex Tillerson has handed over a list of 75 terrorists to Pakistani officials, said Khawaja M. Asif, the Pakistani foreign minister.
The list was passed on during the maiden visit of US Secretary of State Rex Tillerson to Pakistan on Tuesday.
According to express Tribune, Asif told senators during a session of the parliament's upper house that Pakistan wanted to expand relations with the US on the basis of equality and self-respect.
It is said that the list also includes the name of Haqqani Network leader, Serajuddin Haqqani.
Meanwhile, US embassy in Islamabad said in a statement that Mr. Tillerson has called on Pakistani officials to take serious measures against terrorists' safe havens in that territory.
US-Pakistan relations have become tense after Washington declared its strategy on Afghanistan and South Asia, which Islamabad was accused of sheltering and supporting terror organizations.