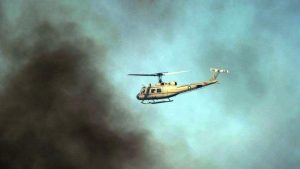 US has withdrawn its helicopters given to Pakistan for patrolling Afghanistan-Pakistan border, According to Pakistani media outlets.
According to sources, 5 of the 9 helicopters remained in Pakistan were pulled off from Pakistan.
According to BBC report, these helicopters were given to Pakistan in 2002 with the aim to observe more Afghan-Pak joint borders and to identify and destroy insurgents.
The Pakistani government has been silent about the withdrawal of these helicopters so far.
Meanwhile, according to experts, taking back the helicopters is the sign of tense relations between America and Pakistan.
The Relations of Islamabad-Washington have been clouded after US vowed its new strategy on Afghanistan and South Asia, in which Pakistan has been accused of failing to take needed actions against terrorist groups.
Pakistan's air forces are equipped with Russian and US helicopters, but recent trips of Pakistani officials to Russia, China, and Turkey point out the country is trying not to rely on the United States.