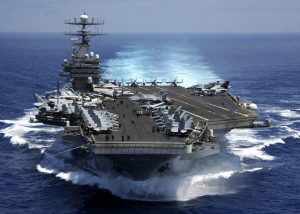 The US navy's "Carl Vinson" carrier a strike group of American navy deployed near North Korea. The media quoted from US authorities.
Recent changes are being conducted, following "growing concerns" for Pyongyang's military measures.
Gen. Harry Harris, commander of the Pacific staff issued the order to deploy the group from Singapore Sea, to be positioned off the Korean peninsula. (CNN) news agency quoted from Pacific command of US army.
In recent months, North Korea has tested several missiles and had yet tested a new rocket motor that has been concerns of International community.
Donald Trump, the US president sent the troops after met "Xi Jin Ping" Chinese president in Washington; the visit that American president urged Beijing to increase measures to prevent North Korea's nuclear activities.