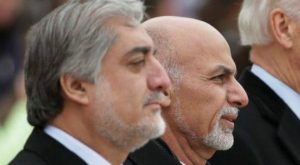 Leaders of Afghanistan's three major ethnic minority political parties, all of whom hold senior positions in the government, announced from Turkey Saturday that they have formed a coalition to save Afghanistan from chaos, issued a list of demands for reforms by President Ashraf Ghani, and vowed to hold mass protests unless they are met.
Mohammed Atta Noor, an ethnic Tajik and provincial governor; Mohammed Mohaqeq, an ethnic Hazara leader and deputy to the government's chief executive; and Foreign Minister Salahuddin Rabbani, a member of Noor's Jamaat-e-Islami party — have been visiting Dostom in the past week for a family wedding in the lavish home where he has often lived in periods of exile. Quoted from (Washington Post).
The group, calling itself the Coalition for the Salvation of Afghanistan, said their aim was to "prevent the collapse of the government, avoid chaos and restore public trust." They demanded that Ghani devolve power to cabinet ministries and provinces, stop "overreaching" his authority for personal motives, schedule long-promised elections, and obey the constitution and the law. It also called for Dostom's full authority to be restored and a government attack against him to be investigated.
Ghani's office responded coolly and calmly to the provocative salvo. Presidential spokesman Shahhussain Murtazawi told news outlets that the government "welcomes any move" that contributes to national interests, but he noted that the individuals leading the coalition are "involved in the government" and thus also "accountable for its shortcomings." If the group has "any alternative plans for overcoming the current situation," he said, "They should share them."
There was no comment from the office of Abdullah Abdullah, the chief executive officer who has been estranged from Ghani for many months.
A variety of political figures and observers reacted skeptically to the news, suggesting that the ethnic minority leaders, all of whom have had differences with Ghani while in office
A spokesman for Gulbuddin Hekmatyar, said the new coalition seemed "suspicious" and might be more interested in "personal demands" than public ones. "Why have they been silent for so long?" asked the spokesman, Kareem Amin. "You can't be inside the system and criticize it too. "
Hekmatyar, in a separate statement Saturday, called on all Afghans to unite and support the Ghani government at a time of crisis.
But although many of the protesters' demands were similar to those listed by the ethnic leaders, the composition and tone of their impromptu movement, called "Uprising for Change," was completely different.