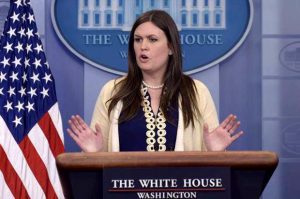 Following the US president's rhetoric against North Korea at the UN general assembly in New York, the white-house spokeswoman said the US has not declared 'war' on North Korea, if anyone thinks so, it is absurd.
The white-house spokeswoman Sara Sanders at a press conference in New York said that president Trump's speech at the UN had not been a declaration of war against North Korea.
It is not appropriate to target the planes of a country in free waters and we seek a peaceful nuke disarmament of the North Korean peninsula.
Trump had harshly talked against North Korea at the UNGA, saying: if necessary, we destroy North Korea.
US-North Korean relations have reaches its darkest point after North Korea conducted a military maneuvers.