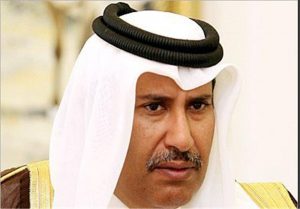 Former Qatari PM Hamad bin Jassim al-Thani has confessed his country alongside US, Saudi Arabia, and Turkey backed up armed groups in Syria.
"Qatar has whole documents on this subject. On a visit to Saudi Arabia, I met with King Abdullah, according to the command of Qatari Emir. He told me we will support you, you follow up on this issue and get hold of the issue," former senior Qatari official said.
"All aids were sent to Turkey and were distributed to armed groups in Syria in coordination with Turkish and American officials," ALmayadeen TV quoted Mr. al-Thani.
He also pointed to the presence of Saudi and Qatari troops: "Our military officers and Saudis also participated the distribution."
Former Qatari official admitted helping armed groups in Syria in coordination with Saudi Arabia, US, and Turkey while Saudi kingdom, Egypt, Bahrain, and the UAE cut their relations with Qatar on charges of Doha links with terrorist groups.