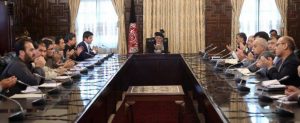 Yesterday evening, president Ghani met with Kabul senators and parliament members (MPs) in the national assembly in ARG.
According to (DID) news agency report, Senators and MPs expressed their condolences to the president and Afghan nation due to recent terrorist events, and said we back government agendas. Quoted from ARG palace.
The parliament members said that demonstration is a civil right of all citizens, but putting up tents and traffics on the way causing problems for them.
On the other hand, president Ghani also expressed his condolence to senators and MPs in the national assembly due to the recent terrorist incidents in the country. He appreciated them for supporting government programs.
"We need a "consensus" in this condition, both for political status or for Kabul situation, so that we can provide more security in Kabul." The president added.
"The "rule of law" is our major responsibility and the demand of people as well, and it should be implemented in practice," Mr. Ghani stressed.