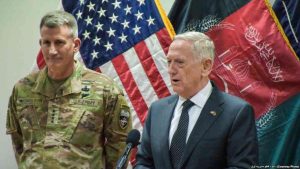 Yesterday, Jim Mattis, U.S defense security told the congress that America is Not in a position to win the war against Taliban.
According to (DID) news agency report, quoted from (VOA). Jim Mattis, the American defense secretary has said that he will offer the government's new strategy to the congress to counter the Taliban within a month.
Mr. Mattis who was speaking before the senate's armed services committee, said: in my opinion, Taliban is getting power in Afghanistan.
"We are not wining in Afghanistan and will reform the situation as soon as possible," he added.
It is noteworthy that according to the new strategy, the United States of America intends to deploy about 3000 to 5000 more troops to Afghanistan in the coming months.