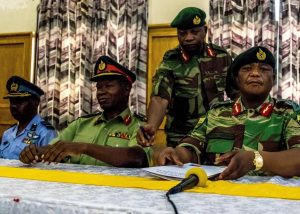 Zimbabwean army have taken control of a state broadcaster ZBC overnight, saying it is not a military takeover.
The army published a statement declaring that it is "targeting criminals" around the president, Robert Mugabe.
According to the Guardian, Mr. Mugabe himself, and his family, are "safe and sound", army spokesman Major General SB Moyo said.
However, Mugabe has not appeared in public or issued a statement. It is unclear whether he is in the custody of the military.
"We wish to make this abundantly clear this is not a military takeover of government. What the Zimbabwe defense forces is doing is to pacify a degenerating political, social and economic situation in our country, which if not addressed may result in violent conflict," Moyo stressed in a statement.
Meanwhile, armored vehicles and troops have on Wednesday morning blocked roads in central Harare around government buildings and the presidential residence.
There are reports that at least one minister, finance minister Ignatius Chombo, has been detained by the military.