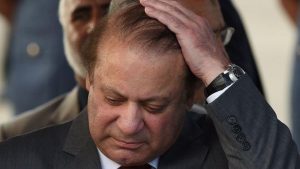 The Pakistani Supreme Court disqualified Nawaz Sharif as Prime Minister, issuing a final verdict Friday, after probing Mr. Sharif and his children's alleged file (Panama documents) for about one and a half year.
According to the court's ruling, Nawaz Sharif has no right to political activity until the end of his life, as well as he and his family have been barred.
It is expected that his cabinet will be dissolved by removing him and the new Prime Minister should be re-nominated from the governing party (Muslim league Nawaz) to set up a new cabinet.
The dismissed Prime Minister Nawaz Sharif vowed that he had abandoned the post as Prime Minister, after being disqualified by the Supreme Court.
The six-member commission also represented by the two Pakistani intelligence agencies, was formed by the Constitutional Court of that country to investigate Panama-related documents and claims of corruption in Nawaz Sharif family.
Pakistan Supreme Court ordered in April this year to form an investigation team, composed of civilians and military inspectors to investigate the file. The team carried out a research about the wealth of his family, but his family members rejected the charges.
Who is Nawaz Sharif?
Muhammad Nawaz Sharif was born in 1949 in Lahore, the capital of Punjab in Pakistan, after completing the elementary and high school education in Lahore, he entered Punjab University in Pakistan and graduated with a bachelor's degree in law.
Hezb-e Muslim League (N) won 2013 election under his leadership and Nawaz Sharif was elected as Prime minister in Pakistan for the third time.
Nawaz Sharif failed to complete his term as Prime Minister from 1 November 1990 to 18 July 1993 on charges such as electoral fraud and corruption. He was subsequently dismissed by Pakistani President Ghulam Ishaq Khan.
Muslim league party regained victory in 1997, and Nawaz Sharif became the country's Prime Minister the second time, but the Pakistani army Chief Gen. Pervez Musharraf stepped Nawaz Sharif down and exiled him to Saudi Arabia by a military coup in October 12th 1999, taking over the country's political power.