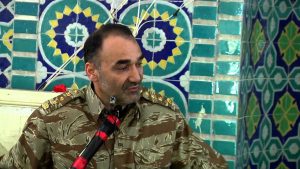 The war in Afghanistan has got a different color, after Russia backed Taliban in north of the country and Russian foreign minister met with General Dostum in Tashkent. Atta Mohammad Noor, Balkh governor warned consul of Russia in Mazar-e-Sharif, over its support from Taliban and Dostum caught in an ambush, in another complex event, but eventually escaped alive and finally fell into the trap under "Ishchi" ambush.
Following these events, Western diplomats visit Atta Muhammad Noor more than ever, and he had also spent some times in an informal journey to Arabic countries, in which there are not more details in hand.
Mr. Noor in a rule of thumb had told to a number of senior commanders of resistance front that alignment with the Russians can put resisters against Americans. Calculation of Mr. Noor is that the Americans do not easily give up Afghanistan and anyone who settle contrary to their interests, will be destroyed.
Reports give notice that Americans in a visit with Atta M. Noor, urged his cooperation in the fight against Taliban.
There are statements that roughly twenty thousand armed people have activity under the command of Atta M. Noor in north of the country. Surrender of two Taliban commanders in "Koh-e-Alburz" area, which is counted as Taliban's supply route to Faryab, Sar-e-Pul and Jawzjan provinces, can be an example of Balkh governor's power and implementations in line with the US agreements; on the other hand, this can be a serious warning to Russians and holders of Moscow conference too.
There are also reports that Abdul Mannan Niyazi, the isolated branch leader from Mullah Haibatullah, met with Atta M. Noor, in "Dubai" city of Emirate and he is ready to cooperate with the government of Afghanistan.
So by this account, the one on the other side in the game is the Americans not president Ghani.
A long time ago, Americans demanded the presence of Atta M. Noor instead of Dr. Abdullah Abdullah from the resistance bed, but he did not accept it.
President Ghani's 180-degree rotate towards Balkh Emperor after those laughs and long political sarcastic, is other sign of Americans' desire and pressure on him to cope with Atta M. Noor.
Ahmad Poyanda – (DID) news agency
Translated by: Taher Mojab