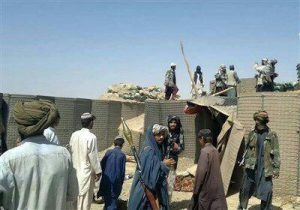 At least 13 Afghan security soldiers were killed and wounded in Qara Bagh desert after Taliban group massively attacked on police headquarters, provincial officials say.
"As a result of Taliban attack on police headquarters in Ghazni's Qara Bagh dessert, at least 5 police were killed and 8 others wounded," said the police chief of the province.
"There is the probability that the highway of the province will be blocked for several days," he added.
Qara Bagh is one of the insecure areas in Ghazni province.
It is noteworthy that 8 police had been killed in the area as Taliban attacked the police headquarters a few days ago.