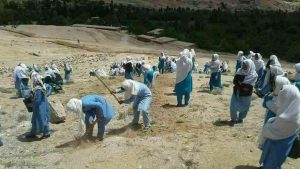 Hundreds of girl students in Daikundi province started to build a school for themselves, due to lack of school buildings.
According to (DID) news agency report, Dozens of Iskan female high school students began to build a school for themselves due to not having school buildings in Mir-Omur district of the province, quoted form local media of the province.
Sughra, a student in contact with (DID) press agency said that "10 years have passed since my enrollment, but the government has not allocated a building for the school so far. We have spent 10 years studying under the hot sun."
"We have suggested department of education and governor of the province several times to build a school, but we have not received any response yet," she added.