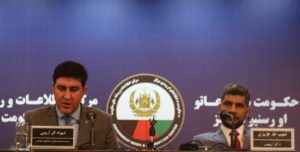 Afghan ministry of telecommunication and information technology said Tuesday at a meeting in Kabul that completing three Fiber Optic projects in 25 provinces, is a special achievement of the ministry, during past ten months.
Completing fiber optic project is the urgent needs of the citizens in the country, said Shahzad Gul Aryubi, the acting head of ministry of communication and information technology "Over the past ten months, 25 provinces of the country have been connected to fiber optic network and 9 other provinces will also be connected by next year."
Mr. Ariyubi said that the recent developments and achievements of the Ministry of Telecommunications and Information Technology are special steps in the field of the Fiber Optic Network Agreement, saying that the Silk Road is a link between Afghanistan, China, Tajikistan, and Kyrgyzstan.
According to Mr. Ariyubi, a satellite agreement has also been signed between Afghanistan and India in recent years, in which Afghanistan can send two satellites free of charge.
"The connection of Afghan Telecom and China Telecom will also be expanded to share experiences between the two states," Mr. Ariyubi added.
On the other hand, the Ministry of Communications and Information Technology has signed an agreement with the ministry of natural disasters for prompt information to provide immediate information on natural disasters.
Afghanistan has not had fiber optic networks over the past decades, and now, a number of country's provinces have recently been connected to fiber-optic network services.
Shamima Ahadi – (DID) news agency
Translated by Taher Mojab