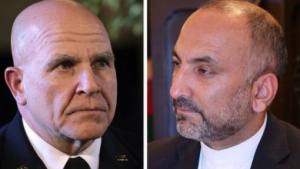 Afghan national security adviser Hanif Atmar discussed with his American counterpart McMaster about the new U.S strategy on Afghanistan and South Asia through a video conference.
According to a statement by Afghanistan's national Security Council, the axis of the talks were mutual cooperation between Afghanistan and America about the new strategy of that country as well as the recent trip of president Ghani to America.
In addition, it is said that Mr. Atmar will possibly meet with McMaster on the sideline of the U.N's general assembly.
It should be noted that president Ghani is going to travel to New York to attend the UN's general assembly.