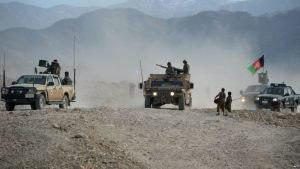 As a result of a two-day operation to capture Chimtal district, 42 insurgents were killed, 29 wounded and 8 other insurgents were arrested by the security forces, Shaheen corps officials say.
A spokesman for 209 Shaheen corps Nasratullah Jamshidi reported that all areas of Balkh's Chimtal district were captured and scaremongers suffered 'heavy casualties' as a result of "Alburz 11" operation.
"42 insurgents were killed, 29 were injured and 8 others were arrested by ANA forces," Jamshidi said.
"Mawlawi Ataullah Omri, Taliban's deputy shadow governor for Balkh province was also wounded," he stressed.
"12 insurgents' vehicles were destroyed and several different weapons were handed over to ANA forces," Jamshidi added.
Shaheen corps spokesman said: "investigating operation is ongoing in recently captured areas in Chimtal and the neighboring regions in Charboluk district, in order to eliminate threats posed by the scaremongers and some measures have been taken to protect security checkpoints."
Alburz 11 operation was led by Balkh governor Ata M. Noor, which was begun three days ago and ended Sunday afternoon.