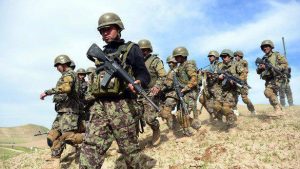 Afghanistan's ministry of defense reported in a press statement that 79 insurgents were killed in different parts of the country, during past 24 hours, adding the security forces have seized some of their weapons and vehicles in cleansing operations.
In the past 24 hours, 79 terrorists were killed, 48 others wounded and 2 of them were arrested, said the statement.
Security forces have conducted clearing operations in different parts of the country and the terrorists were killed and wounded in eastern, western and southern provinces of the country.
According to the statement, terrorists were from groups of Lashkar-e Islam, Taliban group, and the Haqqani network.
The terrorist groups dispersed from south of the country to different parts of the country and carry out operation against the Fghan security forces.