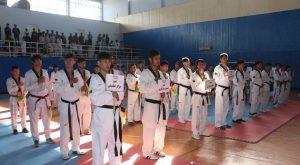 More than 200 athletes from Kabul Taekwondo clubs participated that will compete in eight weight classes.
The purpose of holding such competitions is to strengthen taekwondo and selecting 32 top faces for Kabul selected team.
Leadership board of physical education and sports directorate and the national Olympic committee attended the opening ceremony.
"Whenever the sport's plans are well managed, the private sectors can cooperate in supporting the athletes," said Mirwais Bahawi, the technical deputy for holding better competitions.
The competitions will continue for 6 days and 32 top faces will be chosen for Kabul selected team at the end.