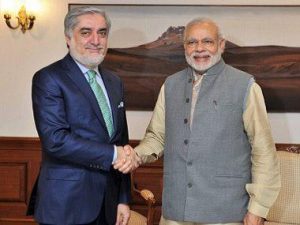 The chief executive Abdullah Abdullah to open India-Afghanistan trade fare which is sponsored by a US development agency.
Mr. Abdullah arrives in New Delhi on Wednesday for a week-long visit during which he will hold talks with the Indian PM Narendra Modi and external affairs minister Sushma Swaraj, looking to strengthen business ties between the two countries.
Abdullah, along with finance minister Arun Jaitley and others, will also inaugurate an Afghan-Indian trade fair that is sponsored by the United States Agency for international development. HT reported.
Agriculture, education, healthcare and energy are among the key sectors expected to get a boost during the four-day event that begin on September 27th.