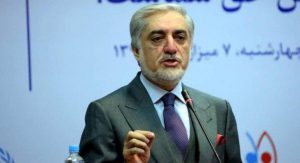 The chief executive of the national unity government Dr. Abdullah Abdullah in reaction to Mohammad Mohaqiq rhetoric said, Afghan citizens should not involve in other country's war.
Speaking at the Council of ministers summit, the chief executive said, right now the Afghan people are at the front line of the war against ISIL, suffering casualties very day.
"Daesh and other terror groups are a serious threat to Afghan community," he said.
This comes as Mohammad Mohaqiq, the second deputy of the executive directorate praised the attendance of Afghan immigrants in the Syrian war, which received various reactions in the country.