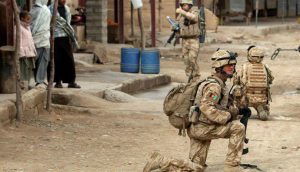 John McCain, republican senator has asked the U.S president to put immediate attention on Afghanistan's security status, so that the situation of this country does not go into a chaos.
Chairman of armed forces committee of America's senate vowed on Thursday that Donald Trump must fight Daesh the same certainty as to deal with Afghanistan's security situation. Otherwise, current status of Afghanistan will "lead to a strategic failure."
"According to America's statistics, Afghanistan's government only has control on 57 percent of its country soil, while this figure was 72 percent last year." Mr. McCain said.
He asserted that the people of Afghanistan to defend their country are fighting against Afghanistan – America's "joint – enemy"; but this is also should not be forgotten that America is still fighting against terrorism in Afghanistan and must prevent from similar attack of September 11th.
McCain asked Trump that in order to break the "Deadlock", organize the situation and increase the number of U.S troops in Afghanistan.
The alarming position of the prominent U.S senator on Afghanistan's status and the responsibility of the government led by Donald Trump in this context, while being carried out in a condition that according to many critics, Mr. Trump consciously pass off the heavy and complicated case of long and ongoing war in Afghanistan, and this way, shows negligence and indifference to the longest war in the history of the United States, too.
In the recent speech of Mr. Trump in America congress, which took place last week and in fact, was counted as his first speech among the representatives of the people of America, it was expected that when the president of America presents his administration's policies, strategies and programs, in various areas of foreign policy and internal reforms to armed forces and counter – terrorism and foreign military missions and etc, mentions Afghanistan's issue as one of the main problems with foreign policies and America's army military missions as well, and pose that as an important and serious priority in the field of international status and his administration's defense and war programs; but despite of this expectation, the (US) president surprisingly held this issue silent again and easily passed by it.
This action of Mr. Trump, once again provoked existing concerns related to future policy of America's new administration on Afghanistan's war, and followed widespread reactions among the observers and political activists.
Rula Ghani, current first lady of Afghanistan, in one of her reaction, expressed concerns to the silence of Mr. Trump on Afghanistan, among a number of women activists in Kabul and considered it as a sign of warning, especially to the activity of women's rights organizations. She added that social and political changes in Europe and America may means that western aids in different fields, especially in the field of improving the lives and women's rights in Afghanistan will be cut one day, and women activists must be ready for such condition.
But if we put Mrs. Ghani's concept about the silence and indifference of America's president on Afghanistan, as our evaluation criteria, concerns of the scope of this, will not only remain to the area of women rights; but also it will be a strict peril on the path of final destiny of the longest war in the history of America and heavy toll that the two countries have suffered in the fight against terrorism, state – building, nation building and the development plans over the areas.
One of the most important issue in this context is that it is possible that due to his job, Mr. Trump has just an economical view over America's military mission in Afghanistan like many other areas as well, and evaluate the profit and loss of it only from the perspective of economic and financial advantage and disadvantage; but from the view of observers, such perspective is not the thing that can be a valid criteria determining the profit and loss of America's combat mission in Afghanistan alone; because as reflected in the words of McCain, the people and government of Afghanistan are fighting with terrorism on behalf of other countries of the world, including the United States of America and sacrifice themselves and one day if the combat is stopped due to any reason, this is not only Afghanistan that suffers; but there is this peril too, that we will witness another repeated calamity like the "September 11th"of 2001 against America's interests.