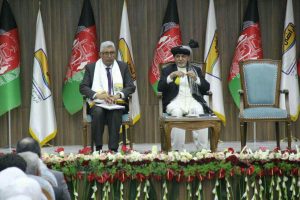 President Ashraf Ghani on Saturday handed out land ownership certificates to a number of Herat residents as part of a ceremony to confirm legal ownership of property for thousands of local landowners.
Besides pointing to other issues, president Ghani also said: "we were Afghans, we are Afghans, and we will be Afghans."
This comes as there is widespread controversy over penning the word "Afghan" in electronic ID cards in Afghanistan, as non-Pashtun ethnic groups identify the word Afghan equivalent for "Pashtuns" considering it as imposing an identity on others ethnic groups.
On the other hand, president Ghani expressed sympathy to victims of bloody events in Kabul, Helmand, and Farah provinces while addressing at the ground breaking ceremony of TAPI project.
"Our enemies must know that we have a great will in implementing economic programs," he said.
Mr. Ghani also congratulated the three countries investing on this project, and added: "when Herat moves, all Afghanistan moves forward."
"The lives of 5 generation wasted during 4 decades war in Afghanistan," president Ghani continued.
Addressing the ceremony, Ghani said he was determined to stop the practice of land grabbing and that all Afghans had a right to legal property ownership.
Ghani said government is issuing land ownership certificates in a bid to cut down on land grabbing practices.