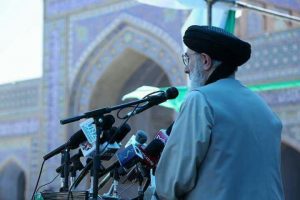 Gulbuddin Hekmatyar left Herat province last night after a young Herati man threw his shoes at Hekmatyar among thousands of prayers in the mosque.
According to DID news agency report, Sayed Abdul Wahid Dadshani is the person who threw his shoes at Hekmatyar while speaking to the people in the mosque.
After throwing the shoes at Gulbuddin Hekmatyar, the national security forces of Herat province severely punished Dadshani and took him away with themselves.
It is said that the grandfather of Abdul Wahid Dadshani, was a member of Hezb-e Islami of Afghanistan led by Gulbuddin Hekmatyar and Mr. Hekmatyar did a lot of oppression over his father during Jihad and war against foreign regimes.
Hekmatyar's four-day visit to Herat, followed some criticism at political parties and media, which is accompanied with interesting spots, including few people welcomed him and throwing shoes.