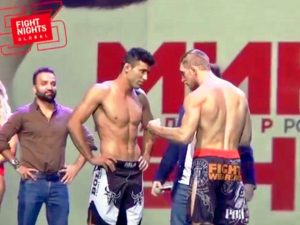 Ahmad Wali Hotak, Afghanistan's Mixed Martial Arts (MMA) fighter, lost to his Russian rival Denis Kanakov on Saturday night in Tajikistan.
This was Hotak's first defeat in an international contest. The Afghan fighter was knocked out by Kanakov in the final minute of the third round.
Talking to social media after the event, Hotak said: "I have not been broken. I regret that I couldn't bring you happiness and championship as before! Don't be disappointed about my loss." Quoted from Tolo News.
The fight, which was organized by Absolute Championship Berkut (ACB) held in Dushanbe.
Other well-known MMA fighter Baz Mohammad Mubariz said on his official Facebook that he was not happy about Hotak's loss and said he would send a letter to ACB and demand a revenge match where he, Mubariz, can take on Kanakov.
"With your prayers, I will beat Kanakov and I want to raise Afghanistan's flag in victory, in order to bring a smile to all the faces of Afghans."
Mubariz was the first Afghan to be accepted as an ACB fighter in 2015.