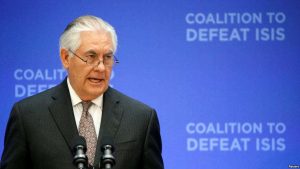 Rex Tillerson, America's foreign minister, said that "beating Islamic State (ISIS) is Washington's top priority."
According to (DID) news agency report, quoting from foreign media, The U.S foreign minister who was talking among senior representatives of 68 countries at a meeting consultation about ISIS group in Washington, stated: we agree that we are faced with many challenges in the Middle East, but beating Daesh (ISIS) is the first priority of the region.
He also said that the coalition led by America is not engaged with State-building at this stage, therefore, efforts should be focused on Daesh in order to prevent the reconstruction of the group.
American foreign minister added that temporary safe havens for displaced and refugees in war against Daesh (ISIS) will be created, so that they could return to their homes in the next stage.
However, he did not determine a country where the place will be created.
Mr. Tillerson said that America will put more pressure on Daesh (ISIS) and will take measure to create a temporary safe zone established by cease-fire so that pave the way for refugees to return to their homes.