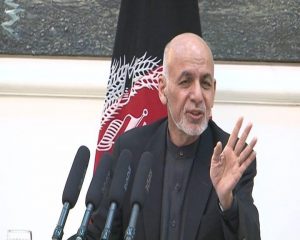 President Ghani attended a press conference, Sunday afternoon, after returning from Australia, Indonesia and Singapore.
According to (DID) news agency report, president Ghani expressed optimism at the meeting, that he has had good achievements for the government and the people of Afghanistan during his trip.
"Currently Afghanistan faces with major challenges like, terrorism, drugs and administrative corruption, that narcotic drugs is part of the war." Mr. Ghani added.
He openly stated that the current war, is Not Afghanistan's war, but war on Afghanistan and terror groups and their supporters try to change Afghanistan into an unstable-base in the world.
Mr. Ghani noted on State sponsor of Taliban: any country that backs the enemy's enemy, in fact, that country has made a mistake.
The president made clear that the nature of Afghanistan's war must be recognized, that one part is counter-terrorism and the other is war on drugs.
Mr. Ghani urged from International community that counter-narcotics should be included in international regulations and this way, fight against drug mafia should be taken seriously.
Mr. Ghani expressed optimism about expanding cooperation with Australia, Indonesia and Singapore. "The experiences of these three countries will be used to develop Afghanistan," he said.