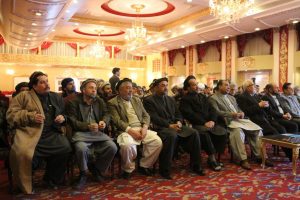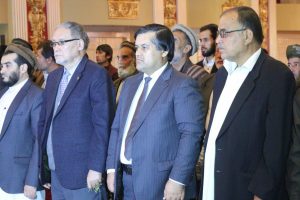 The presidency intended to assassinate general Dostum on a trip to Ghormach district of Faryab province, and Masoom Stanekzai was charged to do so, Jawid Kohistani, a political expert says.
"They sent general Dostum to secure Ghormach district, so that they can build Ghormach ring road, and Masoom Stanekzai went to Qatar and told the Taliban: General Dostum must not return alive," Jawid Kohistani said.
Speaking at a gathering called "glory of resistance during disgrace of plots" which was held in support of Balkh governor Mr. Noor in Kabul, he said: "some circles within the current administration have contacts with Haqqani network and Taliban group, and cooperate them."
"General Dostum, who also had influence among the Taliban, was informed about the ambush plan and was not killed," Mr. Kohistani added.
The political and military affairs expert asserted that there are circles within the Afghan establishment that have close contact with Haqqani network and have recently prevented leaders of the network from being attacked by Americans."
He also uncovered the plan of making North of Kabul insecure and accused the Afghan security council of funding and supporting terrorists in Kabul's Qara Bagh district, saying: "there is also a circle within the national security council which it backs up Taliban terrorist in Kabul's Qara Bagh district by giving them money and weapon, in order to eliminate Jihadi leaders and national figure."
Pointing out the displacement within the army and early retirement of generals and officers in the ministry of defense and interior, which taken by the government, he said: "the plan is aimed at clearing the army from forces connected with former establishments and part of the plots against Mujahidin."
"Groups that are members of intelligence services of major powers and loyal to Pakistan's IS, has come up with these sinister conspiracies to weaken Mujahidin. They want to bring an army of power to be committed to Americans in Afghanistan," Mr. Kohistani further said.
He accused the leaders of the national unity government of neglecting national priorities and interests, stressing the two leaders are more committed to US interests and demands and carry out US programs in Afghanistan.
The political-military expert underlined that Daesh project was embarked and implemented by America in different parts of Afghanistan, specially in the north of the country, and were transferred to the north by Americans.
However, Mr. Dostum has spent several months in Turkey. Although, the office of Mr. Dostum and the Afghan government have said general Dostum is in Turkey for treatment, there are statements that he is actually in exile after being charged with sexual abuse on Ahmad Ishchi.
The political and military experts have earlier accused regional countries, Russia, national unity government, NATO, and America of assassinating northern front figures as well as backing up terror groups.
Akhtar Suhail – (DID) news agency
Translated by Taher Mojab