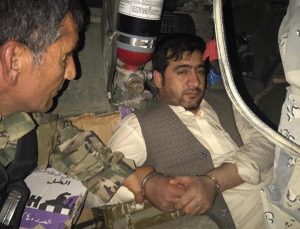 Asif Mohmand, former Balk's provincial member was detained by police on tricky and forgery charges, in Jalaludding M. Balkhi's airport in Mazar-e Sharif, while coming back from Kabul province.
According to (DID) news agency report, M. Asif Mohmand was sieged and arrested by the police on charges of forgery after ten hours resistance, after arrived in Mazar-e Sharif province.
"Irresponsible gunmen belong to Juma Khan Hamdard and Muhmmad Ibrahimkhel came to the airport and tried to prevent him from being arrested," Balkh provincial spokesman Munir Farhad said.
Asif Mohmand had said in a press conference in Kabul that he was threatened to death by Ata M. Noor and that Balkh governor tries to assassinate him, but Mr. Noor had ordered the security agencies to take the security of Mr. Mohmand.
Balkh governor had said that some circles want to assassinate Mr. Mohmand and accuse him of the assassination.
According to experts, Mohammad Asif Mohmand has changed to a reason for the central government to put pressure on the powerful figure of Balkh province.
However, Mohmand's duty has been suspended by Balkh provincial council yesterday, because of what is said to be permanent absence.