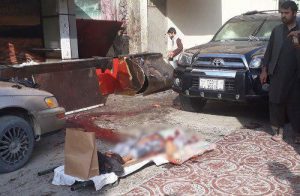 Two Killed and three others wounded during a suicide attack in Shadiyan gate of Mazar-e Sharif Thursday morning.
According to DID news agency report, the attack targeted former Balkh's Marmal district chief Haji Ghani Marmali.
In this incident, Haji Ghani Marmali and one of his bodyguard were killed and three others wounded.
According to eyewitnesses, Haji Ghani Marmali was targeted by a suicide attacker while getting out of a hotel.
"The incident took place exactly when Haji Ghani was walking out of the hotel, then we heard an explosion," said Habib, an eyewitness.
Although Balkh police command confirmed the incident but did not give details about the identity of the suicide attacker, his explosives and the probable cause of the event.
Balk province is a secure province of Afghanistan, but in the past three years, there are speculations among the political thinkers that circles are trying hard to insecure the province.