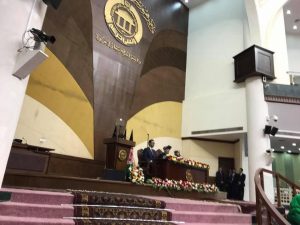 The president M. Ashraf Ghani stressed on holding a transparent election and said that neither I am going to interfere in the election process nor I will allow others to interfere.
According to (DID) news agency report, president Ghani who was talking in the opening ceremony of the seventh year of the legislative assembly, said: obstacles of holding election are eliminated and the field for holding election has been prepared.
"For holding election, there is a national consensus and government will, economic and political problems are obviated and there have been legal grounds to hold a transparent election in an open and sound competition environment." He added.
"Holding election is a national will, neither have I had the intention to interfere in the national decision nor let others to interfere in election process and undermine its transparency," the president underlined.
"Leadership of Afghanistan government is determined in preventing meddlers in election process, in order to hold a transparent, fair and free election that show the will of our people and nation." He said.
Mr. Ghani continued that we need to have an election with full transparency and to be held in a rightful competition, equally and fairly among the candidates.
The president also mentioned to the time of holding presidential election and said: presidential election will be hold in its specified time and this time again we do not allow the upcoming presidential election be postponed like parliamentary election or face challenges.
Mr. Ghani, in other part of his speech also pointed to the issue of peace and insecurity in the country and said: now ambiguity for recognizing friends and enemy is fixed and today Afghanistan has knowledge of its enemies.
"In addition to ISIS and foreign scaremongers, Taliban who wants to kill people and destroy the country is also the enemy of the people," he said.
"Our message to those who do not have peace will is clear; we want the victory of the war and do not allow mercenaries to threat the future of the great nation of Afghanistan." The president underlined.
Mr. Ghani asserted that today Afghanistan is in many respect better than the past, with the measures which have been taken, hope the country will have a bright and stable future.
The seventh parliament legislative is opened by president Ghani, while more than a year has passed since the legal limits, but for reasons, the government has not been able to hold parliamentary election.