Daesh (ISIS/ISIL) terror group threatened to carry out terrorist attacks during the 2018 World Cup in a video message addressing Russian President Vladimir Putin.
---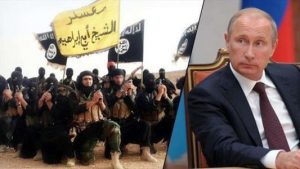 Although ISIS had previously targeted many countries and territories, it was the first time that a superpower president like Russia was directly threatened by ISIS.
Last week, President Putin announced the overall ISIL's downfall in Syria, but insisted the group is still dangerous and will target the United States and Europe in the future.
Russia had a decisive role in defeating ISIL in Syria.
Moscow also expressed concerns over the movements of Daesh in northern Afghanistan and has increased its troops in Tajik border with Afghanistan.
Currently, Russia is directly involved with ISIL in Syria and indirectly in Afghanistan and Tajikistan borders.
The 2018 FIFA World Cup will be played across 11 cities in Russia from June 14 to July 15, when the final will be played at the Luzhniki Stadium in Moscow.