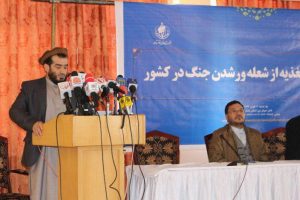 Nehzat-e Islami of Afghanistan says, the fraudulent administration afraid of Ata M. Noor, the Balkh governor, chief executive of Hezb-e Jamiat Islami, and a senior member of the National Coalition for the Salvation of Afghanistan.
Nehzat-e Islami of Afghanistan backs up Ata M. Noor.
"The national unity government's record in the past three years, pushed supporters of the president to raise their voice against him in Kandahar gathering," said Mawlawi Mufleh, head of Nehzat-e Islami of Afghanistan.
"Preventing Ata M. Noor to attend Kandahar gathering is a clear and unjustified violation of the constitution that indicates heads of the government do not obey the constitution, in which it guaranteed the freedom of citizens," said Mufleh. "Devising plots and confronting the powerful governor of Balkh province, will not only weaken him, but also increase his popular stance and legitimate authority," he added.
According to Mr. Mufleh, conspiratorial actions of the government against Mr Noor, persuaded the groups – having doubt about Arg palace – that the heads of the national unity government is not servicing the Afghan people and betraying.
"President Ghani lost his popular position," he continued.
Meanwhile, Afghanistan's Former minister of economics Abdul Sattar Murad criticized the monopolism within Arg palace, saying the government that formed based on a bilateral meeting, was expected to be the National Unity Government but now, it is dedicated to Tahawul-wa-Tadawum team.
"The government does not hear the people and ignores the challenges ahead. They [government] must hear the people's voice and should not bias against politicians," he said.
"The government belongs to all Afghan people, therefore, the people will not allow their rights be trampled," he underlined.
On the other hand, Makhdum M. Forqani, MP, strongly criticized from the heads of the government, saying today, corruption has reached its peak and the heads of the government have not fulfilled one percent of their commitments.
"We are unsatisfied and object the heads of the government of not fulfilling their commitments," he stressed.
Fazl Rahman Orya, a political expert lashed out Arg palace due to dividing Afghan people, saying: "the president took office with frauds and chairs a Mafia group which is plotting against the people and politicians."
Mr. Orya considered Kandahar gathering as a civil movement, asking the government to give a positive response to people's demands.
This comes as these days, the capital and other parts of the country witness massive public gathering, expressing dissatisfaction about the national unity government's records in the past three years.
Akhtar Suhail – (DID) news agency
Translated by Taher Mojab